Texting While Driving….And God's Wisdom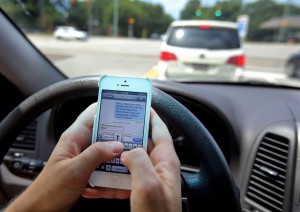 A few weeks ago I was driving down the road and got distracted by a scrolling sign banner thing on the front of a city bus.  I was paying so much attention to the very long message that I nearly rear-ended the car in front of me that had stopped for a red light.  My tires screeched, my seat belt locked up and my drink and lunchbox went flying off of the seat and into the floorboard.
The irony of it all….The scrolling sign (obviously meant to be read by oncoming drivers) was telling me not to text while driving, because that would be so distracting.
In Luke 6:43-45 we see the wisdom of God in how he deals with man's shortcomings…. For no good tree bears bad fruit, nor again does a bad tree bear good fruit, for each tree is known by its own fruit. For figs are not gathered from thornbushes, nor are grapes picked from a bramble bush. The good person out of the good treasure of his heart produces good, and the evil person out of his evil treasure produces evil, for out of the abundance of the heart his mouth speaks.
Jesus obviously understood that our actions are just an indication of where our heart is.  And the Bible is full of admonishments for God's children to not only DO the right thing, but the BE the right kind of people.
Micah 6:6-8 "With what shall I come before the Lord, and bow myself before God on high?  Shall I come before him with burnt offerings, with calves a year old?  Will the Lord be pleased with thousands of rams, with ten thousands of rivers of oil?  Shall I give my firstborn for my transgression, the fruit of my body for the sin of my soul?"  He has told you, O man, what is good; and what does the Lord require of you but to do justice, and to love kindness, and to walk humbly with your God?
When Micah wanted to sum up the kind of people who God wanted us to be, he told us to LOVE kindness, walk HUMBLY and do JUSTICE.  Those first two requirements are matters of the heart.  But it's interesting to me that the thing Micah tells us to do is to "do justice".  And justice can't be done without a pure heart.  A tainted heart, tainted with jealousy or pride or bitterness will keep someone from "doing justice".  Only a person with a pure heart, a heart that understands its relationship to God, can ever truly "do justice".
In Psalm 51, when David was crying out to God for forgiveness after his sin with Bathsheba, David said Create in me a clean heart, O God, and renew a right spirit within me.  He continued later in verse 17 The sacrifices of God are a broken spirit; a broken and contrite heart, O God, you will not despise.
What God wants from us is a heart that is broken over our sin and rebellion against Him.  God wants us to love kindness and to have a humble heart.  Because God knows that when we have the right kind of heart, when we become the right kind of people, then we'll naturally do the right kind of things.
Rather than legislate every action of every minute of our day in an effort to force us into conforming to His will, God knows that all He needs is our hearts.
People seem to think that more laws are what we need.  And more stupid scrolling signs (a sign that should have said, "Look out!!!  Don't read this!!!).  They seem to think that if we can pass laws that cover every possible bad thing that a person could do, mankind will finally be good.  But we can't legislate "goodness".  What we need to be fighting for in our communities isn't another law.  We need to be fighting for the hearts of our neighbors.
Because where the heart goes, the body will follow.