12 hours, 300 miles and 1 Picture Worth Taking
We loaded the kids up last week to take a road trip through the Hill Country.  Actually, that's not entirely true.  We loaded the kids up to drive 300 miles to take one picture, the road trip was just the lagniappe.  
First, the road trip.  As I said here I can't wander more than a few hours from our home without wondering what's good to eat at wherever we're going.  And so it was that a few days before we left I was looking for places to eat in the Hill Country and a friend recommended Alamo Springs Cafe.  Texas Monthly says they have the 2nd best hamburger in the Lone Star State, and although I don't know that I'm qualified to confirm that, I will say that it's definitely worth the stop if you're out that way.  
As is my custom, I took a wrong turn on the way to Alamo Springs though and wound up in dog-gone Luckenbach!  What are the odds?  So we made the obligatory stop and bought T-shirts to prove it.  In keeping with the "everybody's somebody in Luckenbach" theme, the little gift shop sells four foot yard sticks (because the town's so small you're a foot taller there).  As somebody who's always holding a yard stick and needing to make a straight line across a four foot piece of plywood, I've gotta say that a four foot yard stick is as handy as a shirt pocket so we picked one up.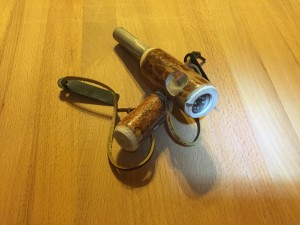 And while I was shopping for giant rulers, guess what PlaysWithFire found?  It was like he has fire-making sonar or something, but he and KicksTheBall both left with nifty little flint and steel getups and were sparking dryer lint in the driveway when we got home at nearly midnight.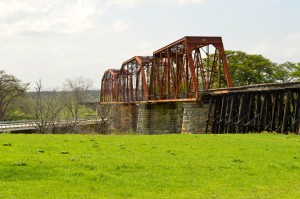 After lunch we headed down Old Fred Road (or Old #9 road, depending on which map you look at).  Right after Old Fred Road turns into Highway 473, you can turn left onto River Bend Road and check out one of the coolest old train bridges I've ever seen.  Of course, like nearly every other cool thing in this ridiculous state, the bridge is behind a fence with "No Trespassing" signs hung all over the place but it's possible to get a few decent pictures if you're creative with where you climb and your interpretation of Texas trespassing laws.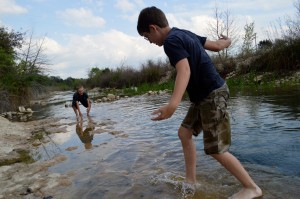 Taking Hwy. 480 out of Center Point there are quite a few places to get off the road and let the kids play in some shallow creeks to cool off.  The water was crystal clear and not too cold and if you keep your eyes open you can find places off the highway with low water crossings and room to park.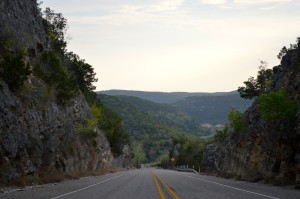 In Vanderpool we managed to find the gravestone of my Great-Great-Great Grandfather, Captain Samuel Fleming, who fought with the 17th Texas Infantry in the Civil War.  Vanderpool doesn't have much except for the cemetery, but there's a big community pavilion across the road that would make a great picnic spot.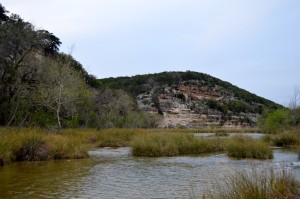 The south fork of the Guadalupe River criss-crosses the highway all the way from Vanderpool to Kerrville (the route we took home).  Again, there are some really great spots to pull over and let the kids play in the river.  If you can't find a good spot to park or the water looks a little stagnant just keep driving because you're sure to find a good spot just down the road.
But in the middle of all this we stopped in the abandoned town of Tuff, Texas.  And that stop was the reason for the whole trip.
Tuff, Texas was never a large town but after shrinking to around 10 residents in the early 1900s it was completely abandoned.  The old post office is the only thing left standing and it's been out of service since 1926.
I was walking around the outside when PlaysWithFire shouted from the front, "Hey Dad, you wanna go inside?"  I told him we couldn't because the door was locked (I'd already checked).  Then I hear KicksTheBall shout, "No, I got it open.  You just have to have a little arm to reach in there and lift the latch."
Good grief, maybe we should rename him BreaksAndEnters.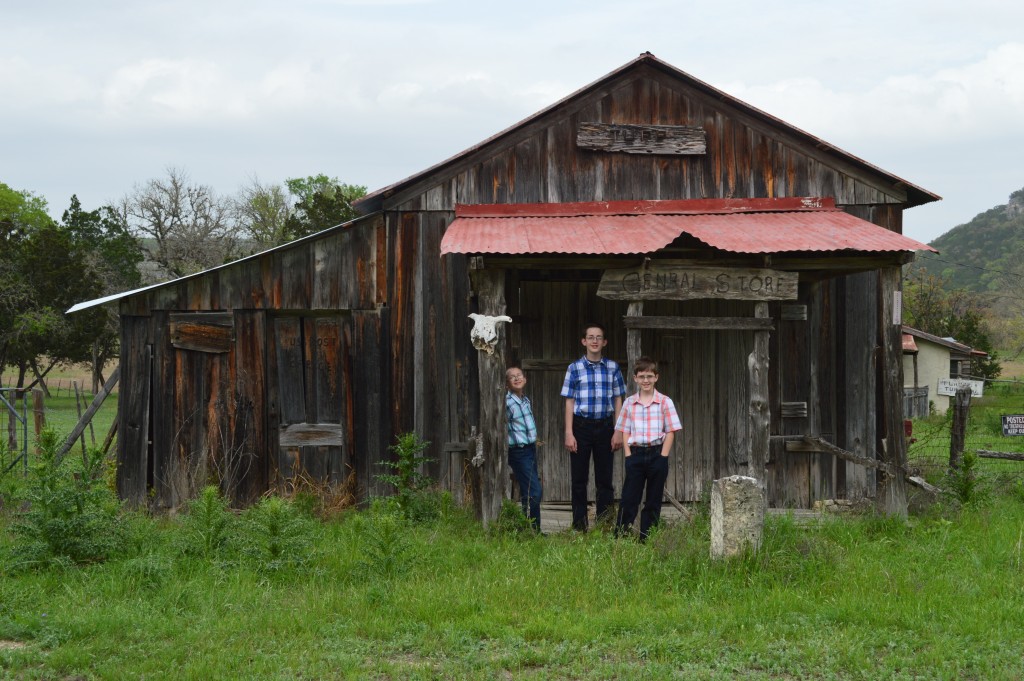 Now I can't confirm or deny that and entering was actually done, but I can say that the inside of the old Tuff Post Office is even cooler than the outside.  We snapped some family pictures on the legal side of the door before we left.
But we didn't drive all the way to Tuff to let KicksTheBall hone his burglar skills.  We drove out there to take just one picture.
I asked my grandmother when this original picture was taken and she's not sure.  I'm obviously not either, but for as long as I can remember I've seen pictures of the Tuff, Texas Post Office at my grandparents' house.  And I've always wanted to go.  Not just to visit, but to take a picture.  Just one.
This is the picture that I remember seeing of my grandpa at Tuff, Texas.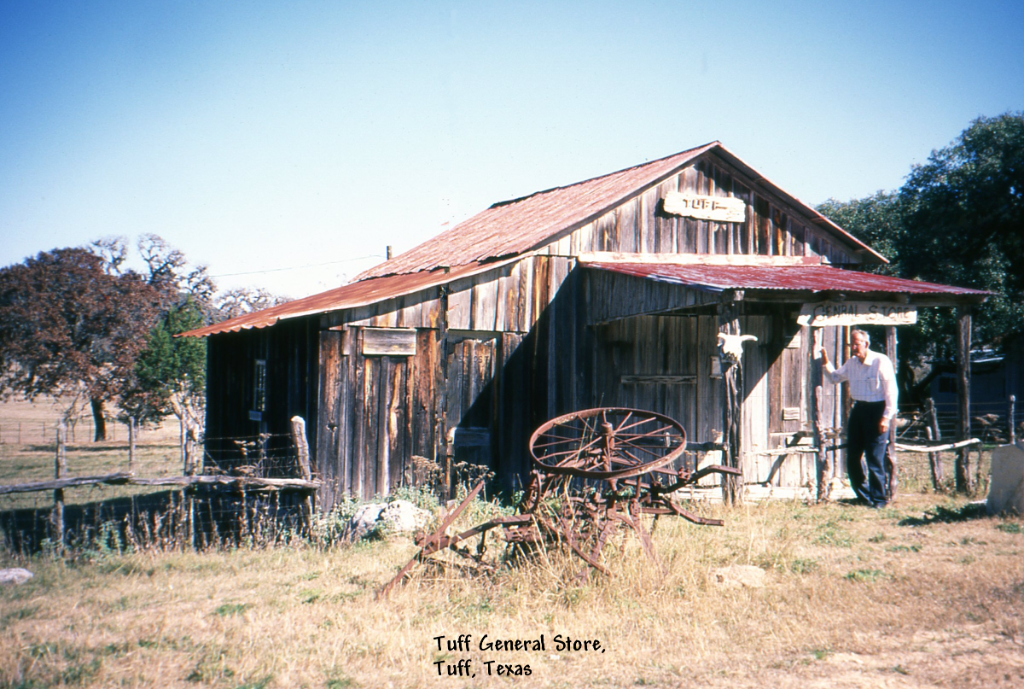 Not everything at Tuff is just the way it was in the old picture.  The tractor thing is gone, the fence is moved and there's a flag pole now.  The flag pole forced me to do some finagling with the angle of the picture because I didn't want to have the pole cut off without the flag showing, but in the end the picture turned out just right.  I've wanted to take this picture for as long as I can remember and it was a great feeling to get it done.  Megan was looking at the old picture on my phone and teared up a little when she snapped it.

And this is the picture we drove twelve hours to take.
The trip was long, but worth every minute of it.  I plan on taking the boys back and duplicating some of our family pictures as they grow.  If the old post office lasts, hopefully they'll be motivated to bring their kids back and do the same.