The Einstellung Effect….And Why It Matters
The premise behind the Einstellung Effect is that people will be more likely to use a solution to a problem that they've already used in the past than a better solution that they've never been exposed to.  
For example, master level chess players were shown a chess board where a simple 3-move strategy was available to put their opponent in checkmate.  All of the test subjects immediately recognized the 3-move strategy.  However, if a well known 5-move strategy that the subjects were well aware of was also available, the test subjects almost invariably chose it instead.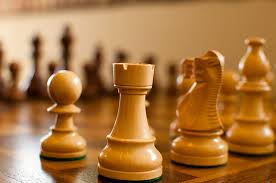 In fact, when the well known 5-move strategy was observed the test subjects reported that they didn't even see the 3-move strategy.
What we already know can blind us to a better option, even when it's right in front of us.
When parents are faced with a second or third child who is vastly different in personality than their first, their natural inclination is going to be to treat all three children however they treated their first.
I'm not advocating that parents should show favoritism to their children, but a good parent will realize that each of their children are different and may need different types of punishment or reward than their siblings.
Husbands and wives will realize that over time their spouse's interests and personality may change.  And while the natural inclination would be to just keep on keeping on like you have since your wedding day, a savvy husband will realize that over time he may need to adjust the way he expresses his affections so that his wife still knows that he loves her.
And while knees may jerk at the idea of changing some church traditions, Christians need to take the Einstellung Effect into consideration when they organize their worship services.
I see nothing wrong with assembling for worship and edification twice on Sunday and once midweek on Wednesday.  And I'm firmly against changing things just for the sake of change without any real reason.  But I think that churches need to be open to the idea that although the three "traditional" worship services solve the problem of Christians needing edification, there may be other solutions that serve just as well….and we shouldn't discount the other solutions just because they're not what we've always done.
I think the question needs to be — "What solution best solves our problem?"
As a parent, what punishment or reward best suits my child and their personality?
As a husband, what can I do to best show my wife that I love her?
And as a Christian, how can my congregation best serve the needs of our members?
Make sure the answer is in accordance with God's will, whether the answer pertains to our families or churches or anything else, and pick the best answer….even if it's an answer that we haven't seen before.