Read Your Kids' Books
Not read books to your kids, but read your kids' books.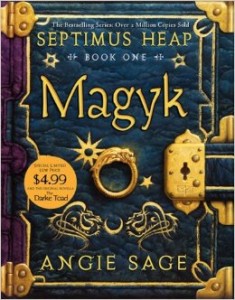 When they're little you've gotta read books to your kids but once they get older you really can't, mostly because they want to read the books themselves.  And that's when it's easy to go on auto pilot, just bringing them to the library and then making sure the books are returned on time.
But over the last year or so I've learned how much fun it can be to read the same books as my kids.  Now I've got an advantage in that my commute to work and home again takes about an hour every day.  And an advantage in that my hoopty of a car has a radio that's just awful, so books on tape are how I usually pass the time while driving.
Now I normally listen to history books (Krakatoa, The Men Who United The States, A Team of Rivals: The Political Genius Of Abraham Lincoln, or anything by Simon Winchester) or classics (The Three Musketeers, A Tale Of Two Cities, or anything by Alexandre Dumas).  So when ReadsTheBooks found the Septimus Heap series on CD I was a little skeptical of a  sudden transition to a book about teenage wizards.  Similarly, I wasn't quite sure I was ready to put down In The Kingdon Of Ice: The Grand And Terrible Polar Adventure Of The USS Jeannette in favor of Gregor The Overlander (a story about an underground world of giant roaches, bats, rats and people with purple eyes) that PlaysWithFire found a few weeks ago.
But I finished the Septimus series and am now two books into Overlander.  And they've been great.  I don't know that I'd ever choose to read them just for the sake of their story alone, but books designed for the tween-teen crowd do have plots that are thick enough to keep your attention while driving to work.  They might not explore man's id with Hemingway's grit, but there have been enough twists in the plot to make me look at the radio and say, "Whaaaaaaaaaaaaaaaat?" more than a few times.
But what I've taken away from these books hasn't been their story line or character development.  What I've taken away from them is quality time with the kids.  And it's been a different kind of quality time.  Instead of doing stuff we've had an opportunity to talk about stuff in a new way, a way that we hadn't before.
If we're reading / listening to the book at the same time we're constantly teasing each other with our own cliff hangers…..  Have you gotten to the part where they're in the cave yet?  Oh, juuuuuust wait….  OK, right before he enters the House of Foryx, PAY ATTENTION to what he writes in the snow.  Blow.  Your.  Mind!!!  Or just talking about the books and plot together…..How did Gregor's dad get to the Underland?  What would you have done when you saw the cockroaches the first time?
Reading my kids' book has given me a very different insight to their minds and how they think and view the world.  Instead of me finding stuff for them to do with me, I've found something very different to do with them.  And it's been time well spent.